Most of the projects we produce have a distinctive scope, so there are costs associated with bespoke graphic design.
Costs for graphic design at Lieutenant Marketing
Your graphic design cost will depend on a number of factors, including:
Writing, designing, and developing the deliverable during the creative time (s)
We typically allow for two rounds of client-directed revisions, though this number may change depending on how straightforward or difficult the task is.
Printing expenses (if applicable)
image prices (if applicable)
Service Prices for Graphic Design
Projects for collateral brochures cost about $1,200 per page.  As a result, the total graphic design cost for a 10-page brochure, including all content and design, is probably between $7,000 and $9,000.
For creative photos and stock imagery, separate quotes for photography are provided. The design fees typically include stock photography. Depending on the complexity, custom photography, and imagery might cost anything from $800 to several thousand dollars.
Depending on the needs of the customer, logo projects might cost anywhere from $1,000 to well over $30,000. If the project is not a start-from-scratch endeavor but rather an update to font or colors, or improvements to an already existing legacy logo mark, the cost can be lower.
Depending on their size and sophistication, trade show booths can cost anywhere from $10,000 to significantly more. For conferences and trade events, we have samples of numerous different sorts of solutions.
If needed, we can assist with quoting and project management for printing. These expenses are charged as a separate management fee. The choice of paper, print quote alternatives, on-site printing review and supervision, and deployment are all things we help with.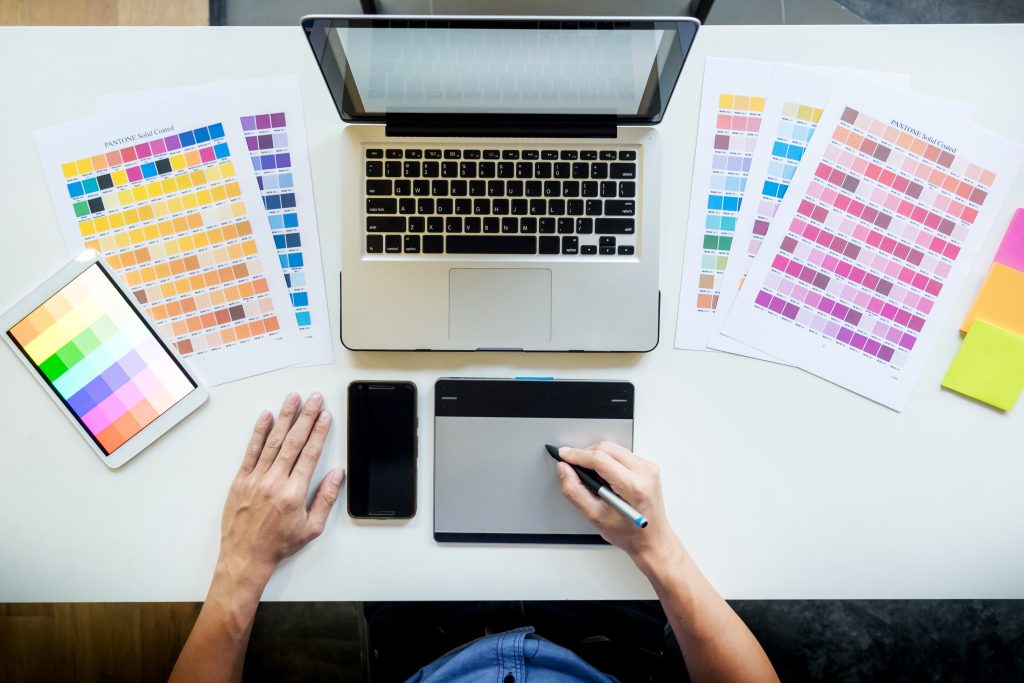 What You Can to keep the Cost of Graphic Design down? 
There are various things you can do to help control your graphic design costs, whether you are working with our company or another design business. Generally speaking, the more prepared you are going into the project, the quicker we can realize your design concepts and the more accurate the designs will be, avoiding the need for numerous iterations of changes and conceptual rethinking. Here are some suggestions to aid your preparation:
Prepare to describe your vision of the project's purpose, essential message, and a thorough description of the target audience for the sales collateral. This enables us to maintain the focus of both our written and graphic material. Understanding what you want the target market to do next, the impression you want to make, and what specifically and meaningfully sets you apart from the rivals is crucial for us.
A formal brand standards guide is very beneficial for managing graphic design service costs as well as for maintaining consistency in how your brand is presented on your website and on company documents like letterhead and business cards. We can proceed with considerably less guessing throughout the design process if we are aware of the dos and don'ts for your brand's color palette(s), typeface, picture display, and other branding necessities.
Another excellent strategy to keep graphic design costs in check is to amass a library of potent, expert bespoke pictures. Pictures of items should convey major features and benefits. The size, effectiveness, innovation, or any other aspect of your physical location(s) that is significant to visitors should be conveyed in photos of your business. A key part of your company's culture and the qualities of your team that matter to consumers should be reflected in employee photos. It is not cost-effective to set up an on-location bespoke photo session to include all of these photographic components for the sake of a single brochure or tradeshow booth.
Please contact us right away or give us a call at 424-488-6461 to acquire a proposal or to learn more about our graphic design services and costs.